Thank You FODS for the playground equipment!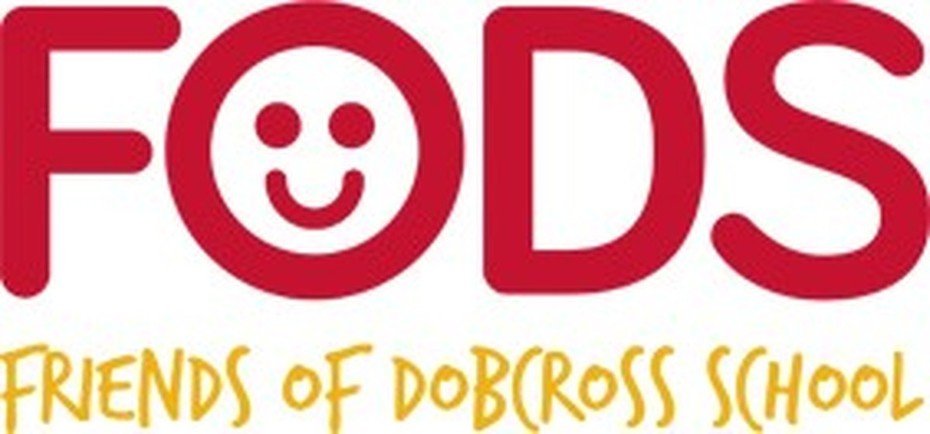 Friends of Dobcross School (FODS)
The Friends of Dobcross School (FODS) is a registered charity, no. 1056681.
Who are Friends of Dobcross School (FODS)?

Friends of Dobcross School (FODS) are Holy Trinity's parent teacher association. All parents, carers and staff are automatically members when they join our school.
What do we do?
Friends of Dobcross School (FODS) aim to:
Arrange events and activities that raise funds for equipment and projects in school to enhance the education of the pupils.

Organise social events for the enjoyment of the pupils, their families and the wider community.
Develop effective relationships between the staff, parents and others associated with the school.
How do we raise funds?
Throughout the academic year, Friends of Dobcross School (FODS) arranges a variety of events which raise money for school funds and just as importantly enable pupils, parents, and teachers to have some fun together.
The activities that are held during the year include something for parents/carers as well as the children. They generally include an annual Christmas Fair and Disco, an Easter Egg Hunt, and Summer Festival plus a number of one-off events. In previous years we have held a Swing Ball, Comedy Evening and Fashion Show. All the events rely on the generous support of parents/carers and everyone is most welcome to participate in whichever way they prefer.
Friends of Dobcross School (FODS) are a registered charity, this allows us to apply for Gift Aid, which can earn us an extra 28.2p in every pound donated and makes it easier to apply for grants and match funding.
What do we spend money on?

Friends of Dobcross School (FODS) have raised many thousands of pounds, which over the years has been spent on improving equipment and resources to enhance our children's education and school facilities. Money raised is for the 'extras' not provided for by the school budget, that make our children's learning experiences so much more fulfilling and exciting School usually has 'wish list' of items that the school would like to purchase. Sometimes this will be as a result of the children asking for something; at other times it will be for resources to improve a particular area of the curriculum or school environment.
We always endeavour to spend our funds in ways that will benefit all our children across all areas of the school and curriculum.
FODS usually meet once at month at The Swan in Dobcross at 8pm. Everyone is welcome. Please see our FODS Facebook page for dates of up and coming meetings and events.


Our Annual General Meeting (AGM) is held in October each year, and this is an opportunity for all parents to come along and hear in more detail about events run and funds raised, and how the money has been spent. It is also the occasion when we elect our new committee.

How can I get involved with Friends of Dobcross School (FODS)?


There are lots of ways you can help and support Friends of Dobcross School (FODS). Offering to help before events or at other times during the year is so valuable – it really is a case of 'many hands make light work'. It doesn't matter if you can't help on a regular basis, or even if you can't come into school. There are always little jobs that can be done from home if you have half an hour to spare e.g. wrapping gifts, preparing raffle tickets etc. We really couldn't achieve what we do without our unseen army of helpers.

If you feel able and have time to spare, you can join our Committee and help plan events. If you have a business, you could donate a prize for our Grand Prize Draw. If you have any contacts or skills we could use please let us know, anything is valuable to us. Please let us know if you can help by contacting dobcrossfods@gmail.com or by speaking to a member of the group:
Jane Bell, Louise Glendinning, Karen Hill, Kirsty Jones and Helen Taylor
How can I help FODS raise funds for school?

Why not come along to one of our events, raise money as you shop online, or join the school lottery? Every penny counts!

Events for your diary
Easter Egg Hunt - Friday 27th March 2020
Summer Fete - Saturday 20th June 2020
Look out for more details coming soon!
Shop online with easyfundraising

Please help support Friends of Dobcross School by shopping online.

Use easyfundraising to shop with over 3,300 retailers including Amazon, Argos, John Lewis, ASOS, Booking.com, eBay, Boden, and M&S.

Every time you shop, you'll raise a free donation for Friends of Dobcross School every time, it's that easy!

Find out more: https://www.easyfundraising.org.uk/causes/fodobcrosss/


.

Try toucanBox


Have you tried toucanBox? toucanBox delivers boxes of themed crafting materials and a magazine to your home every month. They are perfect for 3 -8 year olds and packed with educational STEAM inspired activities.
Each toucanBox is normally £7.99 but if you subscribe using our fundraising link you will get your first box FREE (P&P of £2 to pay). Even better for each taster box signed up for toucanBox will donate £5 to Friends of Dobcross School.

You can sign up for your free box here https://toucanbox.com/taster?code=SCH45SE&school=holytpol36ddf

Please note following your first free box deliveries are monthly at £7.99 plus P&P, it is however very easy to change your subscription or cancel it at any time.


Join the school lottery


Please see below for the standing order form if you would like to join our school lottery please fill it in and send to the school office.
Above and Beyond Award
Oliver did an amazing thing to achieve this award. His mum fell down the stairs and was unconscious. Oliver was home with his mum and sister. Oliver was very brave and very calm when this happened. He phoned his Dad who was able to call for an ambulance. Oliver then went next door to seek the help of his neighbour. He then let the ambulance service in. What an amazing boy!! Well done Oliver.
Above and Beyond record
October 2018 - Isaac and Noah
November 2018 - Alicia
November 2018 - Libby
January 2019 - Rose
March 2019 - Isabella and Emmie
November 2019 - Oliver B